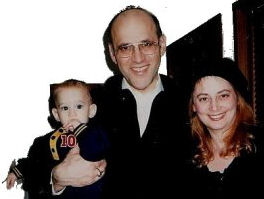 One smoggy morning, as I crawled yet again through the congestion and fumes of the downtown commute, I decided that there had to be a better way to do estate planning in the 21st century. Thanks to the Internet, I realized I can give my clients personal one-to-one service without any of us having to leave our homes. All it takes is personal computers, the Internet, and telephones.
Think of the savings in both time and money to you and to me: If you visited my unavoidably expensive downtown law office, you would be charged for every second. (I think that this is fairly typical.) While we were gathering information about your personal situation and while you were considering important decisions and important questions, your bill would be going up, up, up. Not so any more! You can spend all the time you need gathering your information and considering your answers or questions, but until you submit them to me for review it's not a billable matter.
PLEASE NOTE: This Internet-based Law Office is NOT a computer program with prerecorded messages.
No computer program can replace my years of study and experience, or the thoughtful attention I give to your unique situation. Although some preliminary matters are automated, I personally review all the information about your situation to create an estate plan that gives you optimal protection. I also review all of your important estate-related documents (retirement plans, insurance policies, etc.). After you have executed the documents I have prepared, I review them again to make sure that they were signed and witnessed properly. You get thorough personal consideration, and your estate plan is prepared without delay at an affordable cost.
So... Welcome to my Internet-based Estate Planning Law Office!
Sincerely,
Andrew Gross, J.D., LL.M.
Law Offices of Andrew Gross
(954) 889-7105
Email
---
Education:
State University of New York - Oneonta
B.A.
Tulane University School of Law
J.D. ('Juris Doctor' law degree)
New York University School of Law
LL.M. ('Masters of Law') in Taxation
State Bar Admittance:
Washington
1992
New York
1990-2014
Florida
2002
Committee Membership:
Washington State Bar Association:

Real Property, Probate & Trust Law
Taxation Law

Florida State Bar Association:

Real Property, Probate & Trust Law
Tax Law
---
Questions? Email or call us at (954) 889-7105.
Copyright © 2004–2021 Andrew Gross. All rights reserved.